PSA Grading with Game Addict Australia and PSA is a hassle free process. There are a few steps that you need to follow to ensure you get your cards off to us safely and that you have all the information ready to go.
Once you have decided which cards to grade, follow the steps below.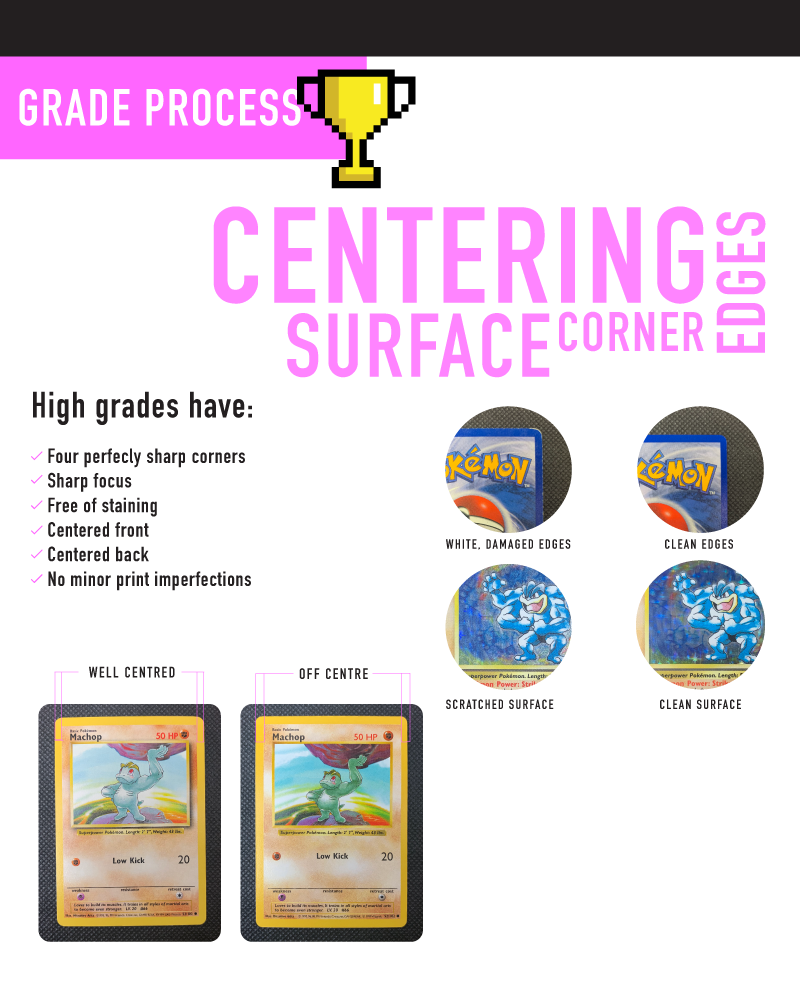 STEP 1. DOWNLOAD A COPY OF THE GAME ADDICT SUBMISSION FORM
You will be required to complete the form as best you can with the required information. It is an electronic editable pdf so you can save a copy and continue at your own pace. Feel free to also print the form and hand write it. Scanned copy of snapshot copy is also accepted.

STEP 2. CONTACT IS AND LET US KNOW HOW MNAY CARDS YOU WOULD LIKE TO GRADE
This will be a good time to let us know what type of cards you are wanting to grade. We will also need to know the estimated value of your cards. This helps with insuring your cards as well as confirming the grade costs. Please see the below pricing breakdown to confirm your grade fee per card

STEP 3. COMPLETE THE SUBMISSION FORM AND SEND VIA EMAIL
When you are ready, send the form to us via email. We will be in touch to confirm postal information.

STEP 4. PREPARE THE CARDS FOR POSTAGE TO GAME ADDICT
For more information on how to send your cards please continue to the Card Preparation Page.

STEP 5. GAME ADDICT CONFIRM RECEIPT OF YOUR SUBMISSION
Once the cards have arrived, you will receive an email from us letting you know the cards have arrived safely. Cards will be pre scanned and logged into our database.

STEP 6. SITE BACK AND RELAX. WE WILL TAKE IT FROM HERE.
You can track the progress of your submission by visiting the Submission Progress Page.
How do I send my cards safely to Game Addict?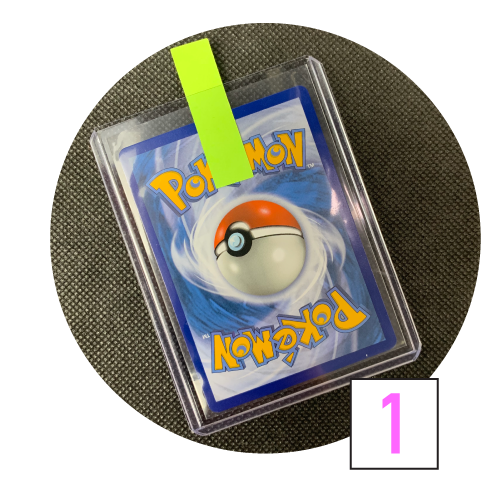 Penny Sleeve and Top Load
Place your card into a new penny sleeve then slowly insert the card into a top loader.If you have access to post-it tabs you can secure one to the outside of the penny sleeve.This prevents risk of handling the cards during the transfer from top loader to PSA Card Saver.
Secure, Stack, Secure Again!
The idea when posting your cards for grading is to prevent any shifting during transport.If you have more than one card, you can stack them together as pictured in the images 2 and 3 above.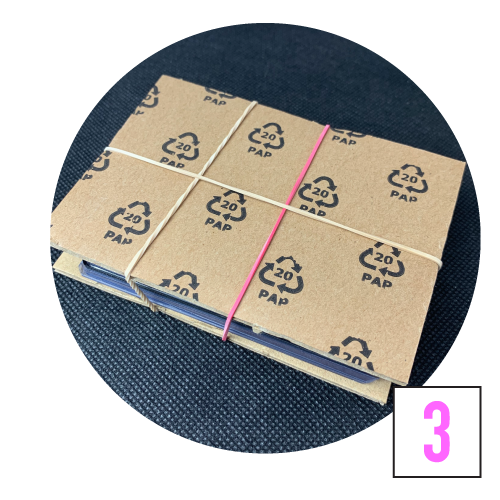 Once you have secured the cards, you can now proceed to place them in an envelope or box.Include a copy of your Game Addict Submission form.Single Cards can be sent in a Padded Bubble MailerMultiple cards should be sent in a padded box or similar, that provides the cards with padding during transport.
READY TO SUBMIT YOUR CARDS?
Download the Game Addict PSA Submission form by clicking the link below. The form is a fillable pdf which makes submitting your cards to us really easy!
once you have completed the form please email it us at hello@gameaddict.com.au and we will be in touch for the next step in your submission.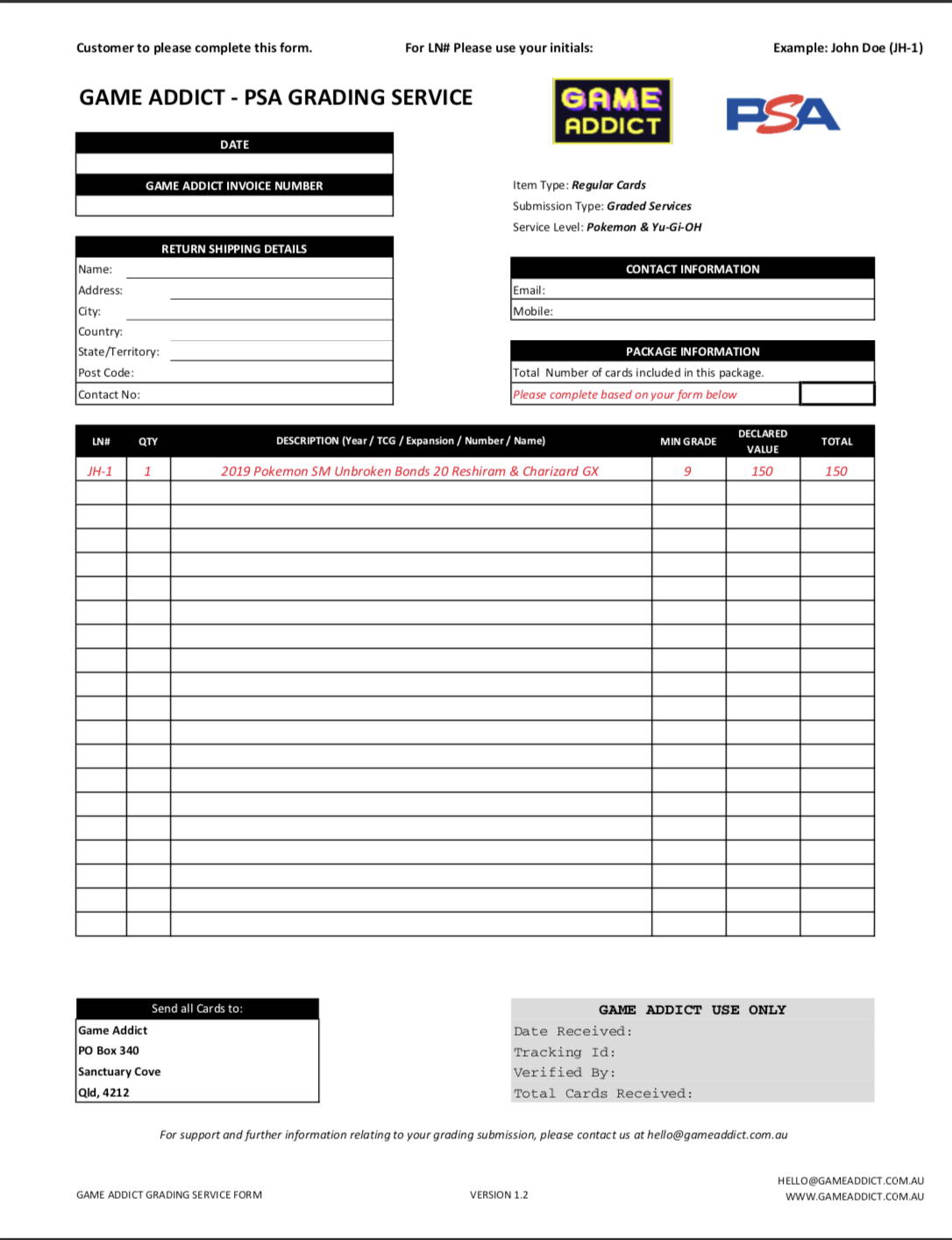 GRADING FAQs WITH GAME ADDICT AND PSA
What type of cards do we currently grade?
Currently Game Addict is accepting submissions for Sporting Cards, Pokemon TCG, Yu Gi-Oh cards that are classified as regular sized trading cards (2-11/16" x 3-13/16" and under). Card submitted to Game addict for grading will be submitted as a No Autograph Authentication. Available for non-autographed trading cards or post-1998 manufacturer authenticated auto cards only. If you have a signed card please contact us first before reserving your submission.
We are reliant on PSA and the advised turnaround times for submissions. PSA is experiencing a high volume of submissions, and as a result, submission processing times have been impacted. Estimated turn round times from a submission is 45 days from receipt at PSA Offices.
Where do I send the card to?

Once you have completed your purchase please send your card/s to:
Matt Harris / Game Addict
PO Box 340, Sanctuary Cove, Qld, 4212
You will need to email us to confirm you have sent your cards.
IMPORTANT: All responsibility is on the owner of the cards to ensure they arrive safely to us. It is recommended that you send your cards with a tracking number and signature on delivery. Please also insure your cards should you have any high value items.
PSA have specific requirements when it comes to submitting a card. Game Addict will ensure that all submission requirements are met. When you ship your card to us please ensure that each card is in a penny sleeve, stored inside a top loader and packed sturdy enough to prevent any movement during transit. It is a good idea to send the cards in a protective bubble wrap envelope or box with the cards wrapped up safely.
What is the value of my card?

Every raw card submitted for grading to PSA must have a declared value. Please complete the value of your card on the Game Addict grading Service form. If your card is value over $100 USD the cost to value the card will be higher as the rates may vary. This is just a process set by PSA. We can assist you with determining the grade of your card so please email us if you have any questions.
Are you sending multiple cards?

All cards must be recorded on your submission form. You can submit multiple cards. Please contact us if you would like assistance completing your form.
When does Game Addict send the cards to PSA?
once the close date for submission is met we will gather all submission forms and cards and prepare them for delivery to PSA. Cards will be sent via tracked courier. For PSA submissions we use TNT / Fedex Couriers. Consignments will be insured to a maximum of $5000 or as required. If customers have provided cards that have an individual value of $500 or more, additional insurance fees may be applicable.
PSA received the cards now what?

PSA will review each submission category received in our consignment and assign resources to grade the cards. Only once PSA have confirmed to us that the cards have been received is when the countdown of 45 business days begins. You will be added to an email list for your Unique Game Addict submission Number. Updates will be provided as we progress through the grading process.
When do I get my cards back?
Once the grading process has been completed, PSA will return the newly graded cards to Game Addict Australia. We will be in contact with you to notify you that your cards have been returned. Return shipping costs will need to be covered based on the method of shipping you choose.
When must I pay for my submission?

To reserve a slot in the next submission please add the PSA Grading Service product to your cart and complete the checkout. You can download a PSA grading form below that will need to be included when sending your cards to us.